September 13, 2017 — Can music build community? This season's performances provide the opportunity for musicians to create distinctive, boundary-blurring music, often involving new commissions and world premieres, while collaborating with members of the greater Philadelphia community and beyond. Programs include performances by Fifth House Ensemble, Jason Vieaux, VOCES8, Kinan Azmeh, Aizuri Quartet, and more.
August 22, 2017 — LiveConnections is thrilled to honor Youngmoo Kim, director of Drexel University's ExCITe Center, with our 3rd annual Connector Award at this year's Big Hurrah on November 14. The evening will also include performances from Andrew Lipke, Angela Zator Nelson, David Rosen, Allen Pinkney, Luke Carlos O'Reilly, Kwasi Burgee, and more!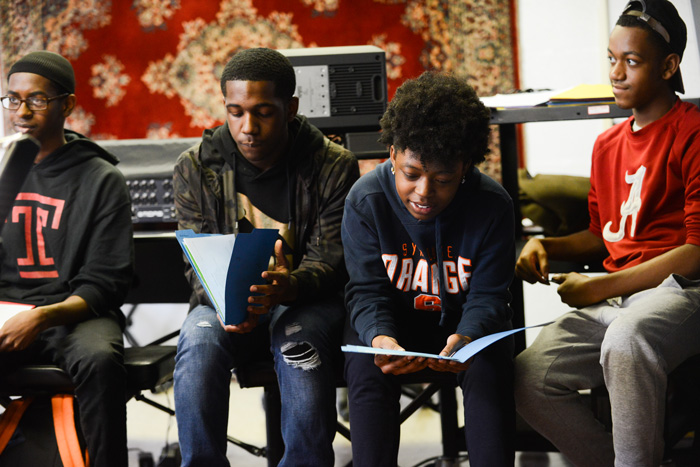 July 5, 2017 — Sometimes a simple connection takes on a life of its own. Read more from executive director Melinda Steffy about the making of the Hill-Freedman album, "First Verse".
June 14, 2017 — We've had an inspiring year here at LiveConnections. 4600 participants in our educational programs, 5 commissions of new concert music, more than 45 tremendously talented artists. Take a look at our 2016-2017 year in review.
April 25, 2017 — On June 2, two Curtis Institute grads will present an evening of classical tunes and original video game compositions at LiveConnections, in residence at World Cafe Live.
April 17, 2017 — Help us raise $40,000 in 10 days through our annual Kids Count Campaign! Proceeds support our interactive Bridge Sessions; our in-school residencies where students write poetry, create their own drums and record original songs; our distinctive music education that inspires learning about collaboration, identity, social change and more.
April 3, 2017 — So much of what LiveConnections does can't be quantified. Read more from executive director Melinda Steffy about our impact on relationships, identity, opportunity and inspiration.
March 8, 2017 — LiveConnections presents the unique pairing of John Patitucci and Daedalus Quartet on April 18 (during Philly Celebrates Jazz month), featuring world premieres of newly-commissioned music.